Tech Partners for Start-Ups and Businesses
Our mentality has always been that of Tech Partners. We work with you to achieve a common goal. We aren't an agency who are just looking for their next project. Our aim at Appy is to build a successful business with you as your long term tech partner.
We work with 2 types of clients: Startups and businesses (from sub £10m revenue to FTSE 100 looking to innovate). We believe that being sector and size agnostic makes us better partners. We're not blinkered to one way of doing things. Cross pollination of business ideas is key to innovation, and working with entrepreneurial people enables us to rapidly explore concepts, without prejudice.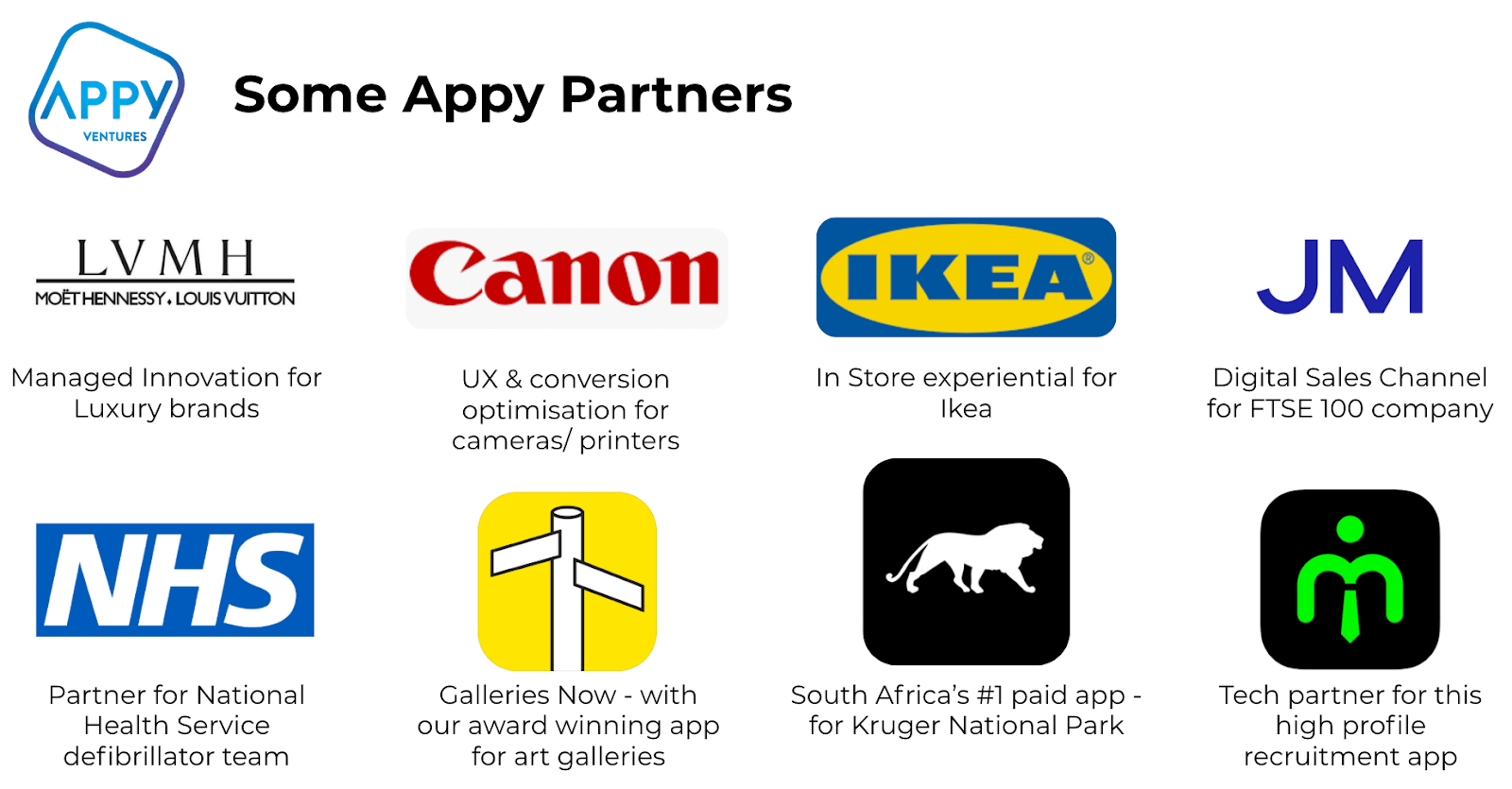 Tech Partners For Startups
Each team member is an entrepreneur at heart, with their own Startup experience, meaning that working with early to scaling Startups is something we love. It's a fast paced task to build something that people will love. It's always a journey, and it's one that we've been on with many Startups, including Fyeo, SmartPlan and Rightly. Some are listed on our Portfolio page, others are in "stealth" mode, but all are aiming for Series A.
We do not work with many Startup. Instead, we choose to work on ones where the founders are strong and have an angle in their target sector. Founders who can raise money to create their dreams. Founders who like to learn and experiment. Founders who want a tech partner to be part of the journey and the upside.
What we do as Tech Partners is initially to accelerate ideas to make sure that the right tech solution is built, we then incubate Startups to help them grow towards Series A, where they can run on their own two feet. There are no hard and fast rules as to how we work. There's no formal program, simply a loose program adapted for each partner. There's only 1 ethos which is to work with you as part of your team to launch a successful business.
Tech Partners For Small Businesses
"Hang on, I'm not a SMALL business!"
Good point. Not many people like to refer to themselves as a "small" business. The better way to look at it might be that you're "nimble". You're not riddled with red tape. You're able to make strategic decisions that matter without going through four committees.
So we like to work with you to initially understand your requirements and avoid the 30-70% business waste on tech spend, either by working with your product team or business analysts. We then go through a wireframing and app design prototype stage to get all your stakeholders on board. In our view, there is nothing better than speaking to the end users of the technology to validate the assumptions made throughout the process.
Once the concept and prototype is signed off, we'll create either a fixed priced estimate, or spin up a team to work in an agile development approach to deliver the results we've agreed.
As Tech Partners, our job is ongoing. We provide support and maintain the tech if your internal teams do not have capacity. We can also schedule regular discussions to review quantitative and qualitative data coming back, so further improvements can be made.
Let's Discuss Our Tech Partnership
Our approach represents our ethos: partnerships are key, and to stay true to ourselves, we've even resigned clients in the past that did not believe in partnerships.
We love what we do and have great case studies and references about our tech partner approach. We'd love to speak with you about your project/business/app idea, to see how we can help. Get in touch below to book in a call with one of the team.