Digital Transformation Strategy For Small Businesses
Over the years, "digital transformation" has become a buzz word that has both excited and terrified businesses. Large companies employ large consultancies, with multi million pound projects aiming to transform their business digitally.
Digital transformation for businesses is a big opportunity but does not have to be complicated. As tech partners, we've worked with all sizes of businesses to do both digital transformation strategy work, and implementation of tactical projects to support internal teams. We've had the pleasure of working with private equity backed businesses to redefine their digital footprint, as well as SMEs on leveraging digital technology to gain a competitive advantage over their competition.
We view it as either:
Internal Digital Transformation - Focusing on company databases, CRM and automating processes
External Digital Transformation - Focusing on acquiring new customers and optimising customer touch points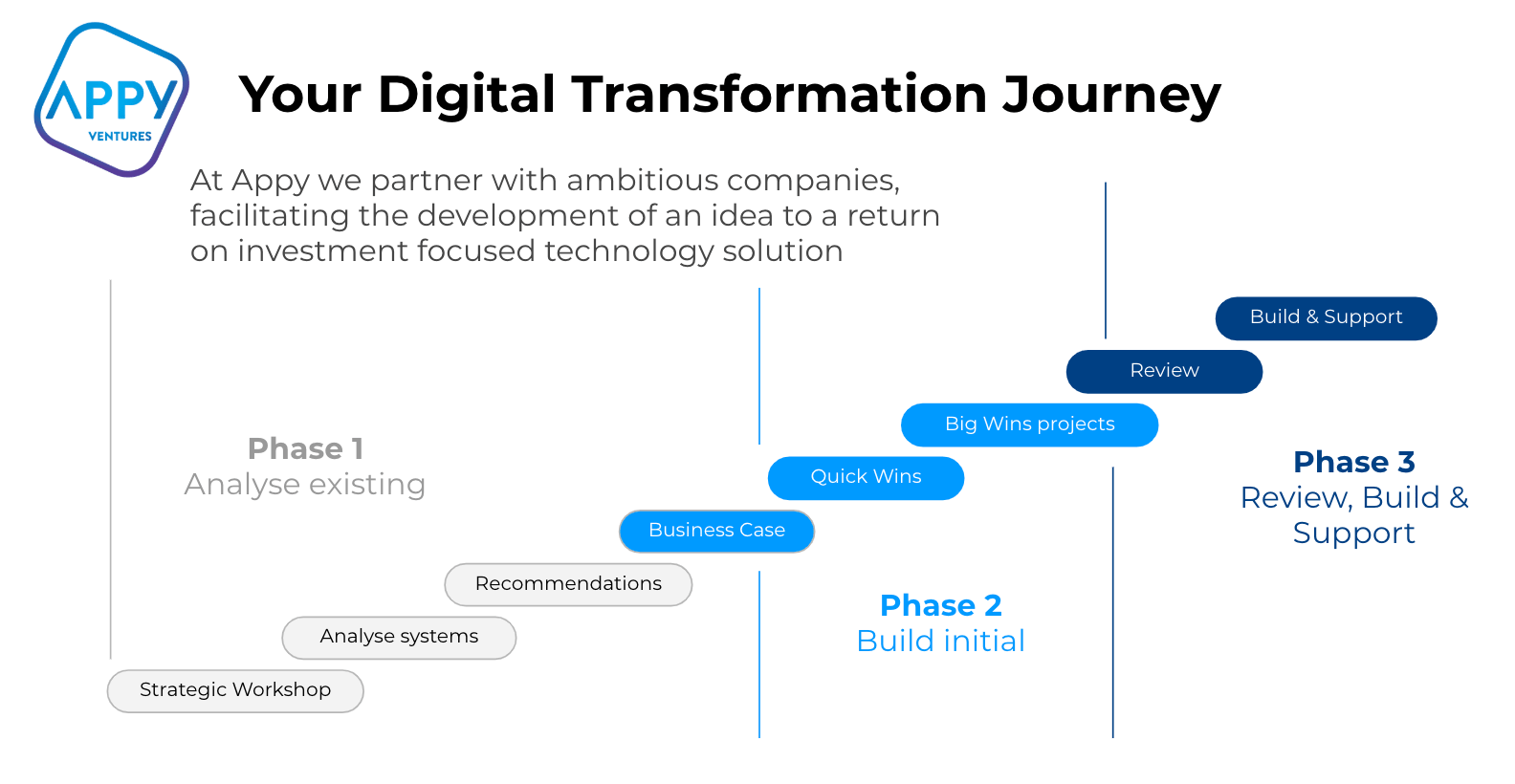 Key Business Drivers For Digital Transformation
Each time we've looked at businesses with a "digital" lense, there are quick wins and longer term strategies that can be put in place. It can be gaining speed and efficiency, removing repetitive tasks from your team or maximising revenue.
There are many signals that a business could benefit from by having a digital transformation strategy workshop. These digital transformation for businesses workshops help with the following:
Internal databases not providing management information in a way that empowers the directors to make informed decisions (or it takes time to create those reports)
Not tracking the customer acquisition funnel, so unable to understand drop offs and where to improve to maximise your sales - hugely important for conversion rate optimisation
Repetitive or manual tasks
Customer Relationship Management systems that are not tailored to your business
No automated email sequencing to automatically grow your reputation and presence with customers, in a personalised way
No bespoke apps to support your sales teams (e.g. brochure apps that automatically create and email quotes to customers as they're used)
Non optimised website (phone, tablet and desktop)
Workshops last 1 day and you will receive a strategic review document highlighting quick wins and long term opportunities, with specific and tactical advice. Cost for this service is £5,000 +VAT.
After that, we can work with you on an ongoing basis to advise your teams on implementation, or work as a specialist outside tech partner to build the required technology if your resources are likely to be taken by business as usual work.
Let's Discuss Where You Are And Where You'd Like To Be
It might be fear of being overtaken by your competition, or greed as you sense an opportunity to grow, fast. Whatever it means for you, let's have a chat to explore the art of the possible and opportunities around Business Digital Transformation. Get in touch below to book in a call with one of the team.