Startup and Small Business Incubator Services
Whatever stage you're at in your Startup journey, we can help. Over the years, we've helped launch over 60 apps and learnt a lot about what works, and what doesn't. We've seen horror stories from others and have been part of success stories. We have condensed those learnings into our Startup Business Incubator. We're not like a standard business incubator that is full of theorists, we're very much practitioners, with each team member involved in their own Startup.
We're also not like an agency, that's not the right client relationship for us. When clients tell us what they want to do, we listen and reflect back our understanding, but also ask "Why?" and suggest ways that might work better to enable you to achieve your goals.
What exactly do we do in our Startup Incubator?
If you're pre-business launch: We will help you refine the concept through prototyping, user testing and discussing with potential Strategic Partners if relevant. We can also help you get investment ready if funding is required to build the "MLP" (our own version of Minimum Viable Product)
If you've launched an MVP: We will work with you to understand the feedback that's coming back from users. We make sense of the data by using our qualitative understanding of app launches. Launching an MVP is all about proving a concept, and sometimes that takes longer than expected, and requires some tweaks to get to the right result.
If you're ready to scale up: You've got positive data coming back from an MVP, and now you're looking to build scalable technology, raise additional investment and work with a Tech Partner that can take you towards Series A. We've got your back.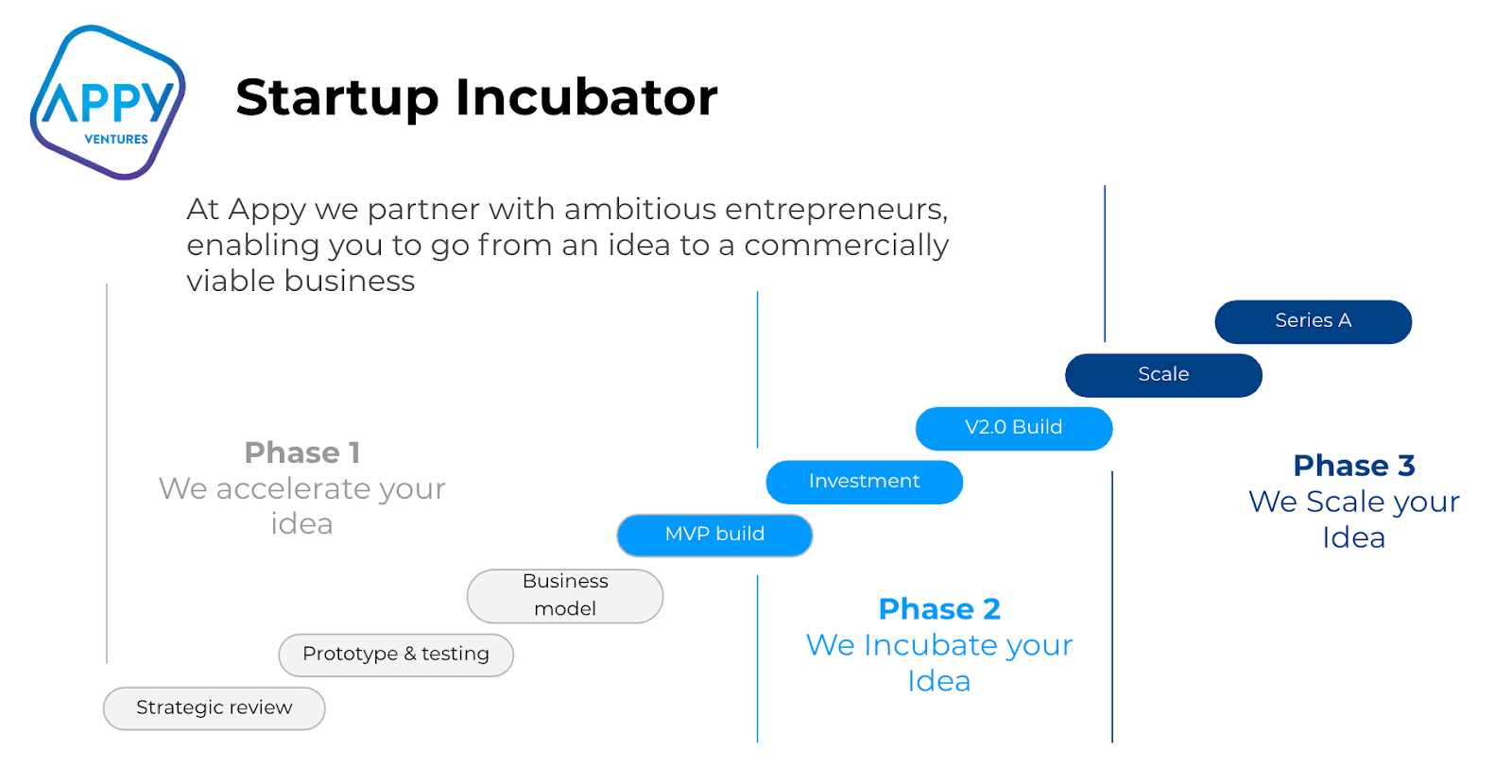 How We Refine Ideas Before Investing In Building Tech
The worst mistake any Startup can do is build a product looking for a problem. Founders often think of a problem they personally have, but do not test their assumptions with other people. Often, for unfounded fears that the idea will be stolen (who's got time for that?). Then they invest all their money/investor's money in building their idea, launch and nobody cares/downloads/likes the app.
We've taken years of learning and experience to refine our process to minimise risk for Startups and their founders, through our App Idea Accelerator:
1. Strategic Review Workshop - Let's look at your idea holistically. Lots of great questions. Lots of great challenges to get you to the right place. We're not here to say "Yes", we're here to help you succeed.
2. User Experience - Don't build anything, not even designs, until you've nailed the user journey and then the wireframing stage. This is enough to show potential users what you're planning and have your assumptions challenged. Our stages of business incubation flow one step at a time to make sure you don't build the next Startup no one has ever heard about. Getting this right gives you the greatest chance of success. It's even more important than your logo, honestly.
3. App Design Prototype - so now you know what about your concept resonates with users, it's time to show them what it might look like. By "sprucing up" the wireframes, we're able to show what the app/tech solution will look like. It's not about winning design awards at this stage, it's about giving a real life experience to your users for larger scale feedback. At this stage we find Strategic Partners to de-risk the launch… when you're ready.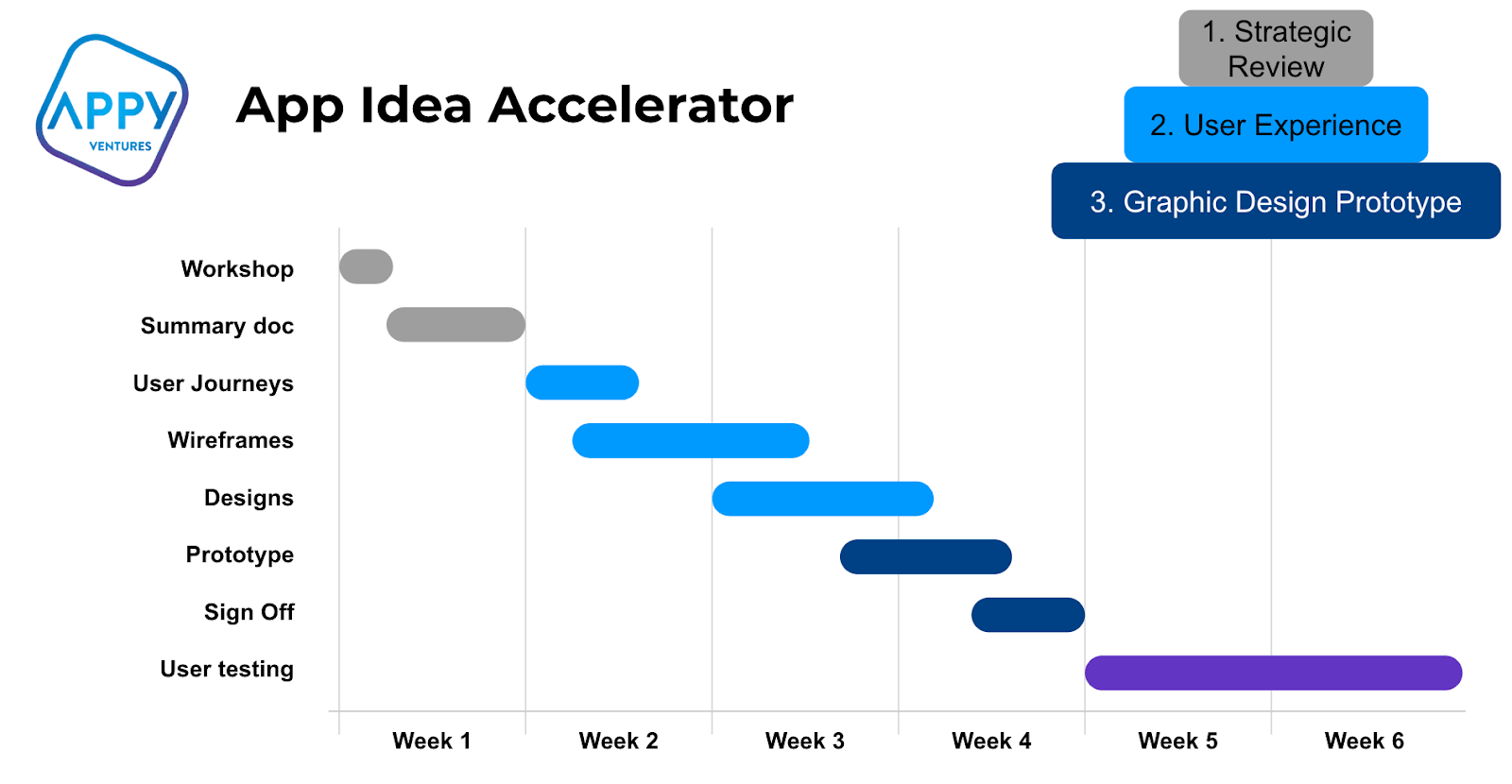 Let's Discuss What Your Startup Needs To Grow
We love working with committed Founders who are passionate about their business idea, as well as keen to learn. We work as Tech Partners, and we're in it for the journey with you, with various ways of working together. Our team has the experience you're possibly lacking so get in touch below to book in a call with one of the team.