How to Turn Your Idea into an App
Thinking of turning your idea into an app? We're living in an age of unprecedented entrepreneurship, with the barrier to creating a tech business lower than it's ever been. All of the top tech companies out there started where you are! As an early-stage idea that the founders simply could not stop thinking about.
We are not an agency. In fact, we dislike that term as it is completely the wrong relationship that an Entrepreneur or business needs. We work as Tech Partners and app idea accelerators, with a view to share our expertise and advice to help your app idea succeed in the long term. We don't take on lots of clients because we don't believe in selling services, we want to work over many years with our clients, as their partner, to help them succeed.
At Appy, we follow our passion and focus on working with entrepreneurs to build tech businesses. We've been doing this for 7 years and have learnt a lot about what works and what doesn't. We've had a great time with passionate entrepreneurs and some notable successes. We've condensed our expertise into our App Idea Accelerator Service, which takes you from idea through a validation journey towards launch.
How to Make any App Idea a Reality
We do not believe in launching every idea. Over 12 months, we had over 10,000 people getting in touch with their ideas, and often talk to 10+ entrepreneurs with an app idea per week. If an idea will not work or has been done, we'll give the founder our honest feedback.
If your idea has legs and should be explored further, we have created a 3 step process to assess and refine the idea. At the end of this process we can all decide together if the app will work as a business, and build and launch it.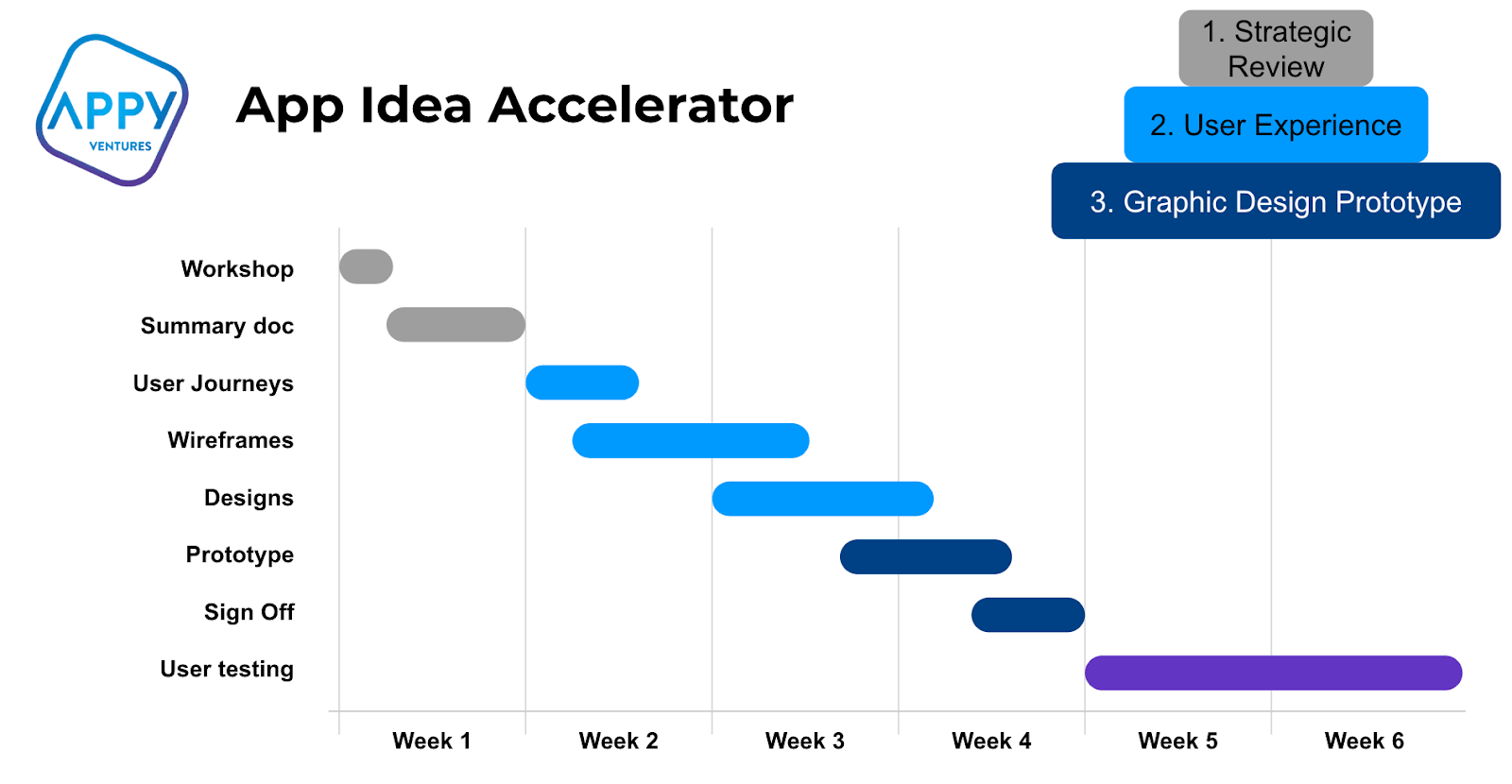 The 3 steps in our App Idea Accelerator are:
1. Strategic Review Workshop - an intensive workshop to look at your app idea holistically. We benefit from backgrounds in business, private equity, entrepreneurship, product and launching tech businesses. Between us we can understand what your app idea needs to succeed in this competitive environment. Understanding the reality about launching app businesses is key.
2. User Experience - a true user journey should convert a download into an ambassador for your business. This stage is all about mapping out the ideal user journey that will make your app addictive, viral and financially viable. This stage is a critical part of the business incubator process, ensuring that what is launched will have the greatest chance of success.
3. App Design Prototype - taking your app ideas and transforming them into interactive prototypes so you can demonstrate your vision to potential users, strategic partners and investors. This is key to get genuine feedback at the earliest possible stage, to help refine your concept before spending money on building your app.
I Have an App Idea, What Do I Do Next?
At this stage you're probably someone in the research phase for your app idea, and are looking for a company that can help you to turn your app idea into a business.
If you're committed to investing time and some money in concepting your app (average cost ranges from £3,000 - £4,000 for this stage), get in touch below to book in a call with one of the team.